From Comics Buyer's Guide #1592 - May 21, 2004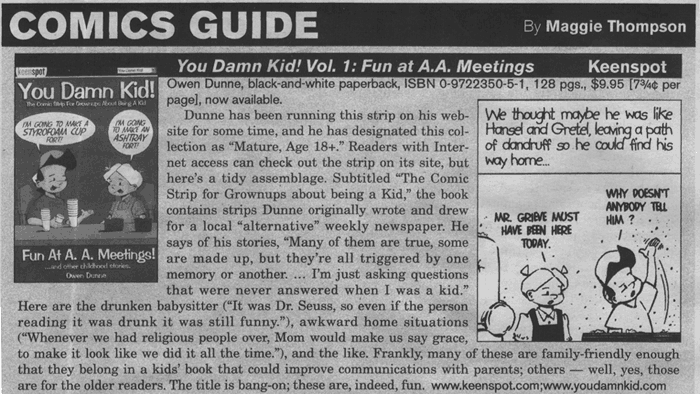 ---
PRESS RELEASE
KEENSPOT ANNOUNCES 2003 REVENUES INCREASED 81.2% OVER 2002
Internet's Most Popular Webcomic Publisher Announces High Overall Growth, Advertising Revenue Sees Strongest Increase

Temple City, CA, March 15, 2004 - Keenspot Entertainment, the most popular publisher of exclusive online comics since its launch in 2000, has announced its total revenues for 2003 grew by 81.2% over the previous year's total, making it their highest-grossing and most profitable year ever. With the soaring popularity of new and existing features, even greater growth is predicted for 2004.

"Our 2003 gross of $188,475 is an 81.2% jump over 2002's $103,976 in revenues," said Chris Crosby, Keenspot Co-CEO "These numbers certainly aren't spectacular in comparison to major traditional print publishers, but they show that webcomics are a thriving, growing industry that could be a major force in the future of entertainment. Along with fellow digital comics publishers like Modern Tales and Wirepop, we're slowly but surely building a webcomics industry chock full of original new characters and concepts."

Thanks to the long-term sponsorship of Keenspot by companies like pair Networks, Pioneer Entertainment, and Retromud, Keenspot's online advertising revenues in particular more than doubled, increasing 134% from $41,713 in 2002 to $97,626 in 2003. "Anyone who says web advertising is dead doesn't know what they're talking about," said Crosby. "We're attracting way more advertisers than we did during the internet boom times of 2000. Subscriptions are great and we offer them ourselves, but they're far from the only path to a successful business model for webcomics."

As profits increased, so did the amounts printed on Keenspot cartoonists' quarterly paychecks, with some regularly seeing four-figures. Over a dozen new cartoonists joined the Keenspot group in 2003, with many more expected to be invited this year. Features added to the 2004 Keenspot line-up so far include the 3-year old webcomic "Striptease" by Chris Daily (www.stripteasecomic.com), about the strange life of a comic-book artist and his friends; Meredith Gran's 6-month old superhero/fashion adventure "Skirting Danger" (www.skirtingdanger.com), previously a pay-to-view comic updated two-times-per-week on the Modern Tales subscription site Graphic Smash and now 100% free-to-view and updated three-times-a-week on Keenspot; and the debut of "Sore Thumbs" (www.sorethumbsonline.com), a politically-oriented, gaming-related, manga-style comic by Owen Gieni and Keenspot Co-CEO Crosby, which attracted 22,211 unique visitors on its first day and was called by some the biggest launch in webcomics history.

While income increased dramatically, Keenspot's overall popularity stayed relatively steady in 2003, increasing only 11.5% over 2002 (from 400 million impressions/pageviews to 446 million). "This is probably reflective of the fact that we added almost no new features until late in 2003 and the fact that we've done virtually no outside advertising since our humble beginnings in 2000," said Crosby. "On the plus side, that's still nearly a half-billion pageviews we're generating annually, and January 2004 impressions jumped a whopping 48% over the same month in 2003."

Print publishing, other merchandising and Keenspot PREMIUM subscriptions accounted for the balance of 2003 revenue in the amount of $90,849. Keenspot print publishing is expected to grow even larger in 2004 thanks to an ambitious slate of new book titles planned, which started with "Chopping Block Vol. 1" and "RPG World Vol. 1" earlier this year. The Keenspot book line is exclusively distributed to the book trade by CDS (Client Distribution Services), which also exclusively distributes a handful of other comic publishers including Marvel, TOKYOPOP, and Crossgen. Keenspot book titles are now being carried by Books-A-Million, Waldenbooks, Borders, Barnes & Noble, Musicland (Mediaplay, Sam Goody), and many other stores.
---
PRESS RELEASE
KEENSPOT GETS AN UPGRADE FOR 2004
Internet's Most Popular Webcomic Publisher Redesigns Logo and Website, Upgrades Hardware, Debuts Two New Webcomics

Temple City, CA, January 22, 2004 - Keenspot Entertainment (http://www.keenspot.com), the most popular publisher of exclusive online comics since its launch in 2000 (currently generating over 70 million impressions and 2.5 million visitors monthly), has debuted a new logo, new website, hardware upgrades, and two new comic features.

The new black, white, and green logo designed by Brad Guigar ("Greystone Inn") has a slick retro feel, featuring a spotlight combined with a comic strip word balloon. "Keenspot's logo had to become more sophisticated to reflect the company's direction," says Guigar. "Keenspot is more than webcomics; it's also books, comic books, comic-related merchandise. Keenspot is getting more serious as a company and the logo had to reflect that."

The new website was redesigned by Josh Lesnick ("girly") and Ian Jones-Quartey ("RPG World") and follows the lead of the new logo in providing a streamlined, attractive, and user-friendly design.

"Friendly Hostility" (http://www.friendlyhostility.com) and "Queen of Wands" (http://www.queenofwands.net) are two webcomics making their debut on the new website.

"Queen of Wands" by Aeire, which began in July 2002 on KeenSPACE (Keenspot's free webhosting service open to all aspiring webcomic creators), chronicles the day-to-day life of "one cynical redhead, her best friend, and her best friend's husband, all living together in one apartment. Real life was never supposed to be this complicated. And it was supposed to have more monkeys."

"Friendly Hostility," from "Boy Meets Boy" creator K. Sandra Fuhr, follows the adventures of Fox, a college student dealing with "parasitic amoeboid aliens, a significant other who wants to conquer the world, and being related to an inventor, an ex-dancer, and a satanic priest. Can Fox drive the getaway car and still keep his GPA above 3.0?"

"We're in the midst of a major hardware upgrade that should result extremely fast serving and very little downtime for 2004," says Nate Stone, Keenspot Chief Technical Officer. "When that project is finished, many upgrades to our system will be implemented as well as a bevy of new features and potential revenue streams. We're all very excited."
---


From Hogan's Alley #11 - April 16, 2003
---