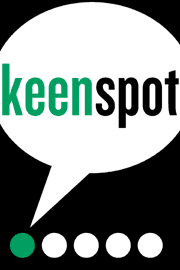 MEDIA KIT

SPONSORSHIPS

THE ULTIMATE SPONSORSHIP
Become the coolest sponsor on your block by becoming THE ULTIMATE KEENSPOT SPONSOR. As an ULTIMATE SPONSOR, your brand will be drilled with love into the willing brains of our 2 million+ unique visitors, associating you forever with the characters they adore and forcing them to buy your product or service (even if your product or service sucks)! As an ULTIMATE SPONSOR, here's what you'll get...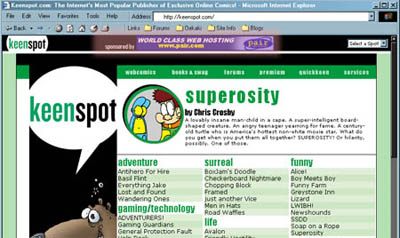 * HEADER BAR SPONSORSHIP: During your sponsorship, your logo and promotional message will be branded into the Keenspot Header Bar that is attached to the very top of every single one of our standard-format pages. That's a minimum of 35 million impressions every month, guaranteed!

10 MILLION+ BANNER ADS: You'll get a whopping 25% of the banner ads on Keenspot during your sponsorship. That means one in four banner ads will be yours. That's 10 million adviews per month, based on our current pageview rate of 40 million pageviews a month (and rising 3% or so every month). To buy 10 million adviews seperately could cost $100,000 or more! You can run as many different styles of ads as you want, promoting every single facet of your company and all of your products. This is the perfect testing ground for new ad campaigns, putting them in front of millions of young male users at a tiny cost.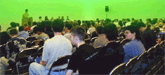 * PROMOTION AT CONVENTIONS: Your "Sponsored by" company logo will be included in our booth display/signage at every Keenspot convention appearance, and we will hand out any promotional materials at our booth that you wish to supply us with. Keenspot exhibits at a number of comic book/pop culture conventions every year. Our first major convention appearance at Comic-Con International: San Diego in July 2001 drew a large crowd to our booth and our 90-minute panel discussion, and the convention itself welcomed over 50,000 attendees . We plan to make an even bigger splash at Comic-Con 2002 (which we're playfully promoting as "KeenCon II") with a booth at least four times as large and a number of special convention events. Your company can be a part of the largest pop culture event of the year without even having to be there!
THE ULTIMATE SPONSORSHIP: $25,000 per month



INDIVIDUAL KEENSPOT COMIC SPONSORSHIP
Build your brand awareness through a sponsorship on the Keenspot comic(s) of your choice (subject to availability). Your logo will be displayed prominently below the logo of the comic you've chosen to sponsor (see example, left) on both the main page and the archive pages of the sponsored comic, as well as other sponsor mentions to be negotiated.
MONTHLY COMIC SPONSORSHIP: Call for details.

keenMERCIALS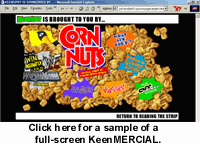 Everyone agrees that banner ads shouldn't be the primary method of advertising on the web. They're quite small, and they have to compete for the attention of the user with everything else on the page. Keenspot has found the answer to your banner ad woes, and it is the KeenMERCIAL.

To put it simply, KeenMERCIALS are as similar to television commercials as you're able to purchase on the web at this point in time. They're generally 10 to 15 seconds long, under 300K, usually in Flash format, interactive, \and they run in between the pages of a comic strip's archive. Just like watching a TV show, Keenspot users sit back and watch as the comic strip takes a commercial break for a word from the sponsor. At some point in a comic strip's archive (chosen either by the advertiser or the cartoonist), the ad will run, giving the reader the option to learn more about the company or product in a new window, and then can continue reading the archives of the strip. KeenMERCIALS will be seperated by a minimum of 20 pages of content (or about 20 minutes of reading time). The KeenMERCIAL has all the power of a pop-up ad without being as annoying to the user.
50,000 SPOTS: $2,500 (standard $50 CPM)
200,000 SPOTS: $8,000 (save $2,500 or more)
500,000 SPOTS: $20,000 (save $5,000 or more)
1,000,000 SPOTS: $40,000 (save $10,000 or more)

BANNER ADS



468x60 pixels, 30K size limit (Sample Ad: Adidas banner designed by WENDY cartoonist josh l.)
Banner ads have gotten a bad rap! They may not be the best ad format on the web, but they still work quite well if they are designed and targeted correctly. In February 2001, a banner ad for an unknown independent comic book got a 4.3% click-through rate on Keenspot. If you're advertising something our demographic might be interested in, and you do it in a pleasing manner, your banner ad will get great results. It's what's inside that 468x60 pixels image that counts, dammit, and we can help you out in that regard. If you commit to a large ad buy or long-term contract with Keenspot, we can design your ads for you at no extra charge. Call for details.
CPM RATE: See Rate Card for details.

PLEASE NOTE: ALL AD FORMATS ARE SUBJECT TO THE AVAILABILITY OF THE COMIC/CARTOONIST.